Dylan Thomas has held onto a strong championship position in the 2017 Toyota 86 Racing Series despite the CXC Global Racing/CGR Performance team enduring two character-building races to conclude Round 3 of the series at Sydney Motorsport Park today.
Starting sixth on the grid after his fine performance in yesterday's opening race, Thomas struggled with an oversteering car and despite a mammoth effort to maintain track position, he found himself relegated to 15th at the finish.
"There was way too much oversteer and I just couldn't get on the accelerator early enough out of corners, which meant I was hit from behind on a few occasions, and was losing positions on the straights," Thomas said.
The CGR Performance team tweaked the car for the final race and Thomas reported improvements, but became a victim of some ferocious mid-pack scuffles and finished 16th.
"The car was definitely better, but in this category it's so close that once you lose track position, it's very difficult to recover.
"In the mid-pack, the battles are furious and it was very hard to make progress."
Despite today's challenges, Thomas has still emerged from the weekend a respectable sixth in the series standings.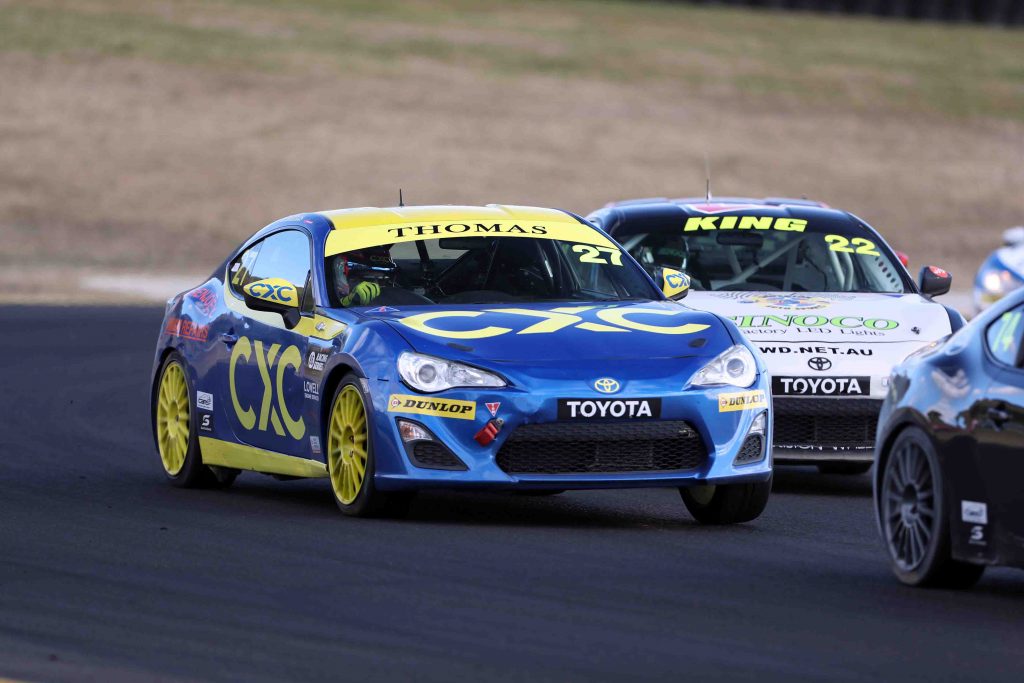 While his final results may not have reflected it, Jacob Andrews enjoyed a much more positive weekend in the sister CGR Performance entry. Starting 14th on the grid for Race 2, he made excellent gains and worked his way through to ninth, only for a minor differential leak to force him into retirement. He charged from the back of the grid to 17th in the final.
"The car was a lot better today, and I was able to overtake cars with confidence.
"I was really enjoying myself in Race 2, I had some fun battles and was able to run inside the top 10 so it was a real shame to have to come into the pits.
"While the final results didn't reflect it, we kept improving over the weekend and showed some good speed."
The next round of the Toyota 86 Racing Series will be held at Mount Panorama Bathurst, 5-8 October.
Toyota 86 Series – Top 10 Points
Jimmy Vernon – 724
Cameron Hill – 634
Tim Brook – 540
Liam McAdam – 512
Trent Grubel – 502
Dylan Thomas – 498
Jake Klein – 456
Ben Grice – 456
Aaron Seton – 448
Luke King – 440