Life is very busy, and many of us just do not have the time to run a race team, prepare a vehicle, read all the regulations, conform to all the standards, and get to the starting line on time. Are you running out of time to get your race or track car and race-ready? Or would you just rather not have the hassle? Or maybe you just want it to be done by our crew who only aim for the best?
With over a decade of preparing front running vehicles, we can do all your preparation work for you and even come to the track with you to assist when things don't go to plan, then celebrate your victories with you. The level of support provided is dictated by what you require, how hands on you wish to be, and is dealt with by a case by case basis.
With our in-house Dyno tuning facilities for 2wd and 4wd cars, we can make sure you get the most out of your vehicle. And it doesn't stop there; we cover everything from the wheels to the driver's seats, performance, set up, and all the bits in between. Let us do it right for you!
Toyota 86 Series rental:
CXC Racing run three (3) Toyota 86's in the Toyota racing series with series with Accosiation with former champion Tim Brook. CXC Racing have cars that are currently available for leasing. The team has excellent resources, spares package, expertise and race winning data.
With a exiting line up of tracks for that includes Bathurst, Townsville and the new Newcastle track, to go along with SMSP and Phillip Island and supporting the V8Supercars series it is shaping up to be an exiting year.
Production Car rental:
The CXC Global Racing team and its fleet claimed 15 wins of the 18 in the NSW Production Touring Championship in 2016. This included two lap-records from two different cars and drivers.
CXC Global Racing has won the inagral Bathurst Production Touring car race and rounds as well as the 2nd running and was always in contention for the win once it morphed into the 6hr.
As well as winning the most races in the category for the last couple of years. We are also well regarded on the national scene with multiple wins and having a reputation for having the fasted pit stops in pit lane.
We have great data at all tracks on or near record pace. All our cars are competitive for the outright win. Our Evo's have won outright in NSW Production Touring with a near novice lease driver and we also prepare the Oostenheisen Evo 9's (identical to ours) for each round which as you can see on Natsoft are super-fast.
All components are freshened at the start of each year as well as having a full spares complement with engines, gearboxes, shafts, turbo's and just about any other part you can think of.
Test days can be arranged from $1700 plus GST by request.
Formula Vee rental: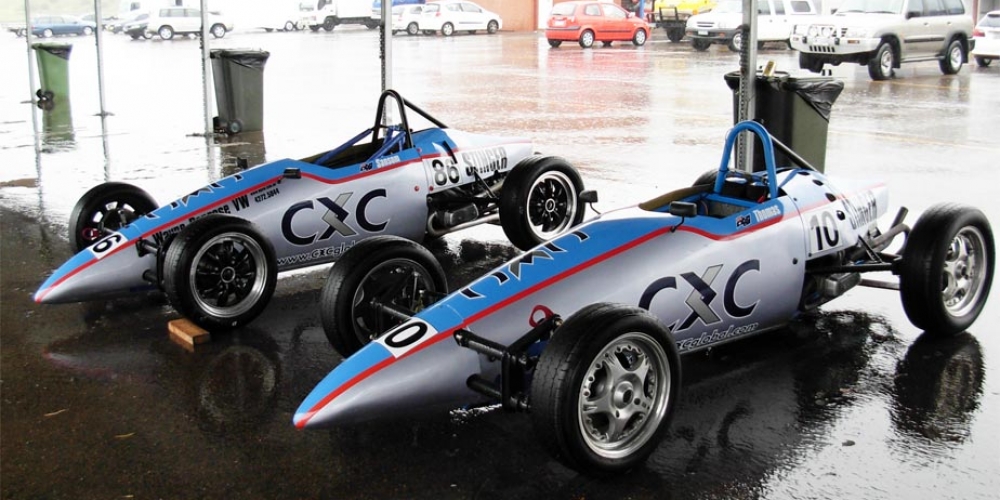 Are you looking for a great day at the track to enhance your driving skills, or just a fun day driving with friends with minimal worry? Try out one of our Formula Vee's, they are a great way to get into an open wheeler race car and they are loads of fun to drive. If you wish to get serious about racing, we can manage your vehicle for you as a competitor in the State series or the National series. Or we can lease you a Formula Vee vehicle for this or a variety of other events like hill-climbs, track days or super sprints.
At State events this year we have 4 to 5 cars under our care and bring out 2 to 3 crew. Our cars are all pretty close to equal and have won races and set lap records.  We also have excellent data with some of the fastest laps at near every track in the country.
Track days:
Track Days provide an opportunity for drivers to improve their driving skills and understand capability and performance of their vehicles in a safe environment. This is NOT a race day, it is aimed at learning and provides access to a group of very experienced race professionals for you to improve your skills and drive safely.
If you have a race prepared vehicle, a Track Day will give you the ability to work on your vehicle set-up. We can provide experienced race drivers and race mechanic's to assist improving the handling of your car. We normally have some of our race vehicles available for comparative purposes.
Driver Training:
Driver training falls into several categories. Track days include some driver training and tips from our experienced team. We will observe your style, habits (good and bad), techniques, driving lines and make suggestions on how to improve, if appropriate. Feel free to ask questions, you have decades of experience at your disposal.
If you seriously want to lift your game with a view to entering a race, then we suggest that you lease a Formula Vee, or install a Motec in your vehicle so that we can overlay and compare data from your lap versus others. We will sit with you and show you your strengths and weaknesses, and make suggestions as to how you can improve your lap times.
Our trainers are experience race car drivers with a history of winning, some are full time driver instructors working for multiple training companies and sharing their experience. We can increase your ability no matter what your level of experience is. Even Michael Schumacher is teachable.( Kimi Raikkonen may be the only one to know it all, so we will leave him alone!)